The holidays are one of my favourite seasons, but I'll admit that this busy time of year has the potential to snowball into something truly chaotic. Whether you're hosting parties, attending them, or decorating your home to get into the festive spirit, here are some tips to survive the holidays – in style!
The Right Atmosphere
How do you want to feel in the space? Cozy and intimate, or bright and boisterous? That feeling is what we in the design industry refer to as "atmosphere." Atmosphere isn't achieved by a single means; rather it's a combination of things that give your home a certain "vibe." Your furniture arrangement, lighting and accessories all contribute to a particular atmosphere. During the holidays, the atmosphere in your home will vary from what it might be on an average day, so style your space with the season in mind.
For example, if you're aiming to achieve a cozy atmosphere for a dinner party, consider low lighting in the dining area and intimate furniture groupings in the living areas that invite people to sit and stay a while. For a drop-in "open house" style gathering where people will be on their feet, remove some of your larger-scale seating to make room for mixing and mingling, with multiple light sources, food stations throughout, and lots of surfaces and side tables for guests to congregate and rest their drinks or plates.
Of course, the holidays call for a little extra sparkle, so choose a festive theme and stay consistent for a cohesive look. Possible themes include winter white, traditional red and green, "the great outdoors," or a more modern colour combination. The secret is to keep all festive décor within your chosen theme. Otherwise, you run the risk of holiday overload – never a good look.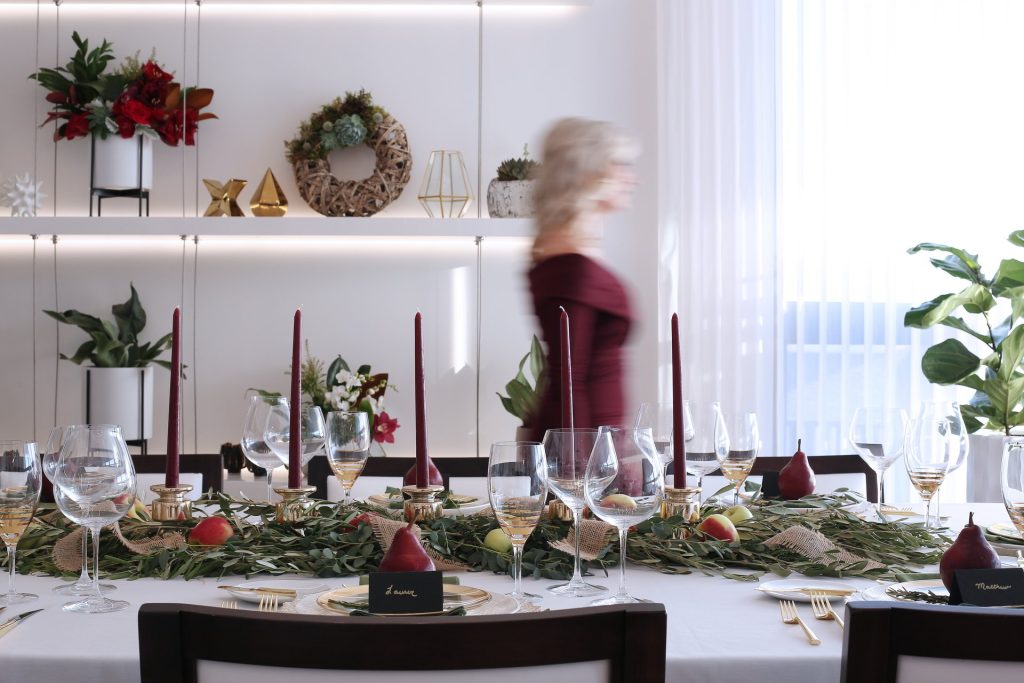 Hostess Gifts
Whether it's a host/hostess gift to show your appreciation for a party invitation, a gift to leave for someone under the tree, or a little something special just for you, 'tis the giving (and received!) season so ensure you have some great gift ideas at the ready. Tap into your knowledge of the givee, and get them something personal and meaningful. For example, a beautiful cutting board for the avid chef, or a gift of glasses for the wine connoisseur. If you're looking for specialty items, it's a good idea to shop early. Oftentimes it can be hard to find great gifts under pressure, so save yourself the stress and don't wait until the last minute. If you're not quite sure what to gift, here are some of great ideas for any occasion, thoughtfully and stylishly put together by pros!
All the Warm Things
Regardless of what you celebrate, or if you celebrate, warmth is an ever-popular wintertime theme for obvious reasons. And the best part about this cozy vibe is you can layer it into your existing décor come autumn, and keep it in place until spring!
Add extra pillows and throws on the sofa and chairs, bedroom and bathroom linens, and overlap area rugs for a cocoon feel. Work with a range of cozy colours, textures and materials to create visual warmth as well. Wood, leather, glass and mixed metals can bring dimension and curated, collected aesthetic. Focus on the entranceway, the fireplace mantel and dining room, which are common gathering places, but I like to take elements of my festive theme into every room, including the kitchen, mudroom, bathrooms, bedrooms and hallways. It doesn't take much – oftentimes, one or two touches will do the trick!
The "most wonderful time of the year" can be cause from stress to some, but with a little advance planning, you can take the "daze" out of the holidays.