The dining table is an important piece of furniture in any home with a dining room, area or even nook. By virtue of its size and lifestyle importance, the dining table commands attention and sets the tone for the home, as larger pieces tend to do. Whether the broader aesthetic is rustic, classic or contemporary, oftentimes it starts at the table. So, pull up a chair and read my top four tips for the perfect dining table.
SHAPE: It's Hip to be Square (Sometimes): If you've been table shopping then you've likely considered the pros and cons of a round, oval, square or rectangular dining table design. Believe it or not, this isn't simply a question or preference. Specific shapes are better-suited to different types of rooms. A round dining table is a great choice in small spaces, tucking away into a corner when not in use. A rectangular dining table work well in long, narrow rooms and open-concept layouts. Oval is preferred in small, long spaces. A square dining table is ideal for a more-intimate dining area, like a square dining room or a nook. With these general guidelines in mind, here are some more "measured" considerations.
SIZE: Bigger Isn't Always Better: We're in an era of oversized harvest tables, but when shopping for a dining table, remember that bigger isn't always better. In fact, it is the size of the room that should dictate the size of the table. A typical dining table should be approximately 36 inches deep, to accommodate a place setting on each side (about one foot deep) and a one-foot gap in between, for serving dishes, condiments and some décor. Each place setting will require about two feet across, which covers the plate and some elbow room. Last but not least, when measuring out your dining area, factor in a three to four foot buffer between the table and walls or other furniture groupings, to allow for the movement of chairs.
Did Your Know? The size of your dining area can dictate the material of your dining table, too! If your home is on the "cozy" side, transparent glass and Lucite are clear, colourless and less cumbersome, as they occupy zero visual weight. Light and views pass through freely, so it's like it's not even there. Reflective materials such as polished chrome can achieve a similar effect. Otherwise, look for tables and chairs that feature long, slim silhouettes. Even when executed in solid wood, these dining table designs are lighter and airier, and work well in small spaces.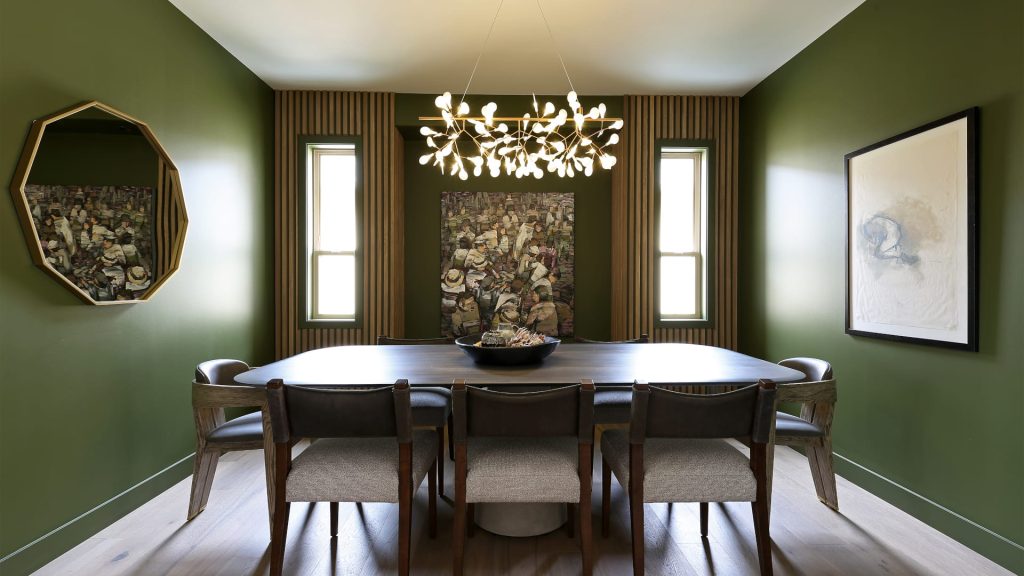 STYLE: Trends Come and Go: Your dining table is an investment and oftentimes, you get what you pay for, so view it from a long-term perspective. For this reason alone, I don't recommend giving in to the trend of the day, which will become dated sooner or later, and in turn, show your home's age. Instead, choose a timeless style with staying power, that will carry your home through the next decade or more. Keep it simple and keep it solid – and remember, material and construction quality matter.
DRESSING YOUR TABLE: I love the idea of leaving the dining table dressed for guests during the holidays, but even in the off-season doing this can help give a home a more formal flair, while discouraging the dining table from becoming a landing place for clutter. Set your table for a dinner party, on any given day. That includes place mats or charger plates, dinner plates, silverware and glassware, napkins and some décor. If you're using a centerpiece, seasonal flowers and greens are readily available and can offer good value. During the holidays, add evergreens and a little extra sparkle in the form of candles or twinkling lights, crystal and chrome. If fresh greenery is too short-lived for your "everyday" table, try some artificial ones in small doses. Your dining table is more than a place to eat and drink. It is a focal point of your home; the center of attention and activity for many years to come. Cheers to all the good times ahead!