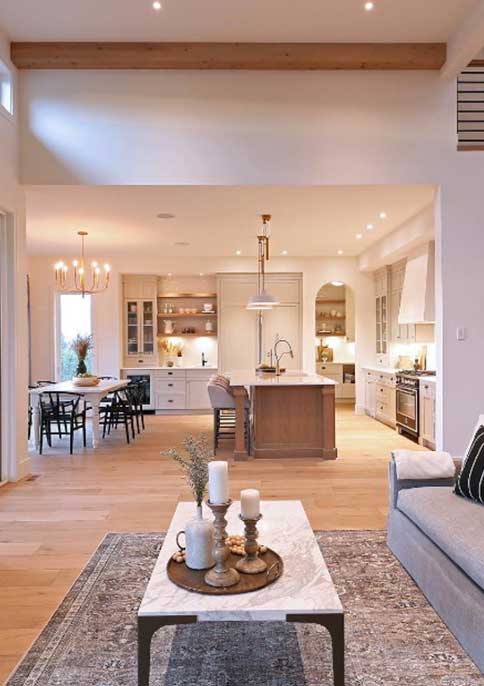 02.
2021 – Gold OHAE Award
Raquel Millikin, Designer
Excellence in Decorating & Styling
(New Home or Renovation)
Excellence in Any Room – New or Renovation
Excellence in Kitchen Design – New Home
Excellence in Any Room – New or Renovation
Excellence in Single Family Detached Home
Custom Home – Valued $900,000 – $1,299,999
Best Interior Custom Residence – New or Renovation
"I have hired Trisha several times over the years and have referred her to several friends and family who have all used her to design various projects. What I like about Trisha is her versatility. She decorated my brother's modern townhouse and it is truly a work of art fit for a magazine.

But for someone like myself who is a little bit afraid of change, she always works within my comfort level to make my spaces beautiful while respecting that I prefer cozy and familiar to sleek and dramatic. She knows everything about colour and space you'd expect a designer to know, but she is exceptional to me because of the way she adapts to each client and gives them a design that reflects their style and personality. She truly makes a space reflect the best version of me."

L.A. BUTCHER

Client - Kelowna
"Trisha Isabey is a truly gifted designer with a excellent sense of style. Trisha's ability to convey a detailed vision of product and design while leading an intricate project has earned her the reputation of a leader in the Okanagan. She really understands the dynamics of all parties involved in constructing a new home. I am pleased to highly recommend Isabey Interiors for any design work."

Jason Webb

Builder - Kelowna
"Trisha at Isabey Interiors was excellent to work with. I met with her to discuss my style and color preferences then she was able to present me with a variety of choices for furniture pieces and fabrics. She was able to source out beautiful items that are not available in Kelowna. I found all dealings with Isabey Interiors to be very professional and informative. I especially liked the fact that Trisha was able to bring color samples, fabrics and catalogs to my house to save me time. I would definitely deal with Isabey Interiors again as they truly delivered outstanding service."

A. SAZWAN

Client - Kelowna
"Trisha Isabey and company were so great to work with. They met with us on time and gave us excellent recommendations. We were given an accurate estimate and an approximate delivery date. They were genuinely concerned with getting us the results that "we" wanted. The project was finished within the time frame given and we are so excited about the end result. Awesome job!! I would recommend them to anyone and would use them again."

D & J KOEPKE

Client - Kelowna
"I have been working with Trisha and her team over a period of two years. They are helping with some minor renovations and styling of my new, previously owned home. They have been efficient and clearly attune to my decorating style, lifestyle needs and budget throughout this ongoing project. I highly recommend Isabey interiors."

B. FARNQUIST

Client - Kelowna

The Intention of Design
Photos Courtesy of Poglia.