I am always excited to be a part of a new build. To be able to weigh in when the plans are not set in stone is ideal. There are so many opportunities that can add incredible style and also great functionality. Once the plan is complete that opportunity is lost. Here are a few things I look at when I'm going over my clients house plans.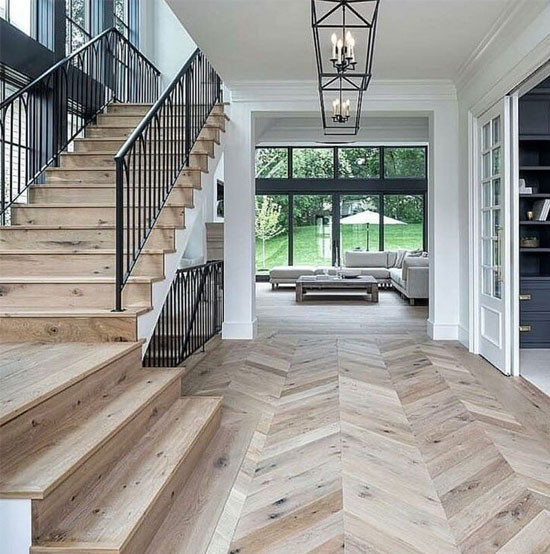 The Entry 
How you walk into a home determines the feel of it. It's the first impression. You should be looking at something beautiful as you step inside. Not a wall. I hate looking at walls in entryways. I will do anything to avoid the wall. If you have a view property you should be able to see the view from your entry. In today's open plan designs this is very achievable. I also love to look in on a beautifully styled great room. The entryway is critical. I remember looking at real estate years ago and my realtor took me to a home in the area I liked. We walked in and there was the wall. I didn't even go inside. It was not welcoming. Case in point.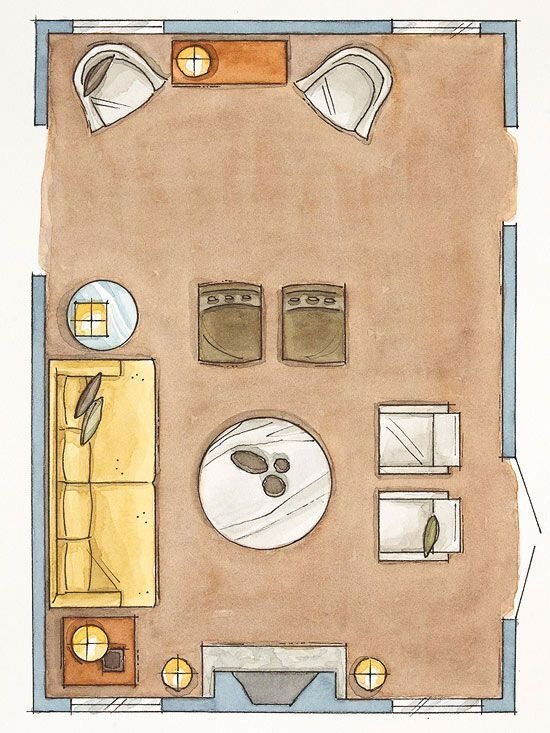 Room Sizes
This is a major. Room sizes will make or break your house. How do you know if they are big enough? A couple ways I use to help clients determine this are to place furniture inside of the plan. Your architect can drop furniture pieces into each room – even to the exact measurements of your own furniture. There are also rules of thumb for how much space you need around furniture. This will give you a much better idea of whether your room is the right size. You can request 3-D renderings as well. Another great way to determine size is to measure some of the rooms you are living in now. It's amazing how much difference this can make in the comfort of your home. This is a critical step!

Functionality
Now it's time to mentally walk through your home. Close your eyes and go through some of the tasks you routinely do. Laundry is a good start. Your laundry room needs to be in a place that is convenient to you. I like my laundry room where the laundry originates- near the bedrooms. We put a pool in our house so I opted for a smaller, less fancy second set on our main floor to handle the pool towels. This has been a game changer for me. Cabinetry is also critical. If you plan well in your house you can eliminate most of the clutter. Think of the items that pile up in your home. That is where good planning will change things. For me, it was my kids jackets, shoes and schoolwork. We put lockers in our mud room – instant home for outerwear and shoes. Oddly, it seems my kids can't find their lockers. But that's another issue! In my office I put great dividers below the upper cabinets. This allows for the random papers and schoolwork to go into a place for future filing. There are so many things that can be tweaked if you take the time to think about your daily routines.

The Future
It's not enough to plan for today – for the stage of life you are currently in. You need to be thinking of the future. My kids are young now, 9 and 11. But we plan to be in our home for a long time. At some point my babies will want to drive. Where will they park? I know how hard it is to get them to put their shoes away. I envision constantly being boxed in with their 1977 green Pinto. We put a carport on the side of our house – long enough for two cars if need be. Or a boat or RV. Currently my son uses it to play basketball, so we really can't lose. Think of teenage kids – where will they want to go with their friends? I am a fan of the basement or the bonus room above the garage. Its inexpensive space to develop, and can give much needed separation in the home. A lot of people are now adding elevators to their homes. Especially in an area that has an aging population. Think of things that may come up in your family and plan for them.

Outdoor Living
This is as important as indoor living. Again, if you plan correctly you will love your outdoor space. I recommend hiring a landscape designer. That is why we have one on our team. The reason I would do this at the same time as your house plan is to accommodate for elevations. If you want to incorporate a pool it may change the layout of your home. An outdoor kitchen or fireplace is always a great addition. This requires gas lines and space planning. Think about whether you want some of your outdoor areas covered – this will change roof lines. It's imperative that you take time to think about your outdoor space.

Style
I would be remiss if I missed this one. A home should be interesting – not just a box. I appreciate a home that has had great attention to detail in the plan. This is what brings the "wow". I encourage clients to go through magazines and online design sites to put together a wish list. If you love floating stairs this is the time to deal with it. If you want niches for sculpture they need to be drawn into your plan. Ceiling details, specialty lighting, spectacular roof overhangs and more. All of these things will be what you love. Ensure you have a skilled team of professionals to help you through this process and watch your vision emerge!